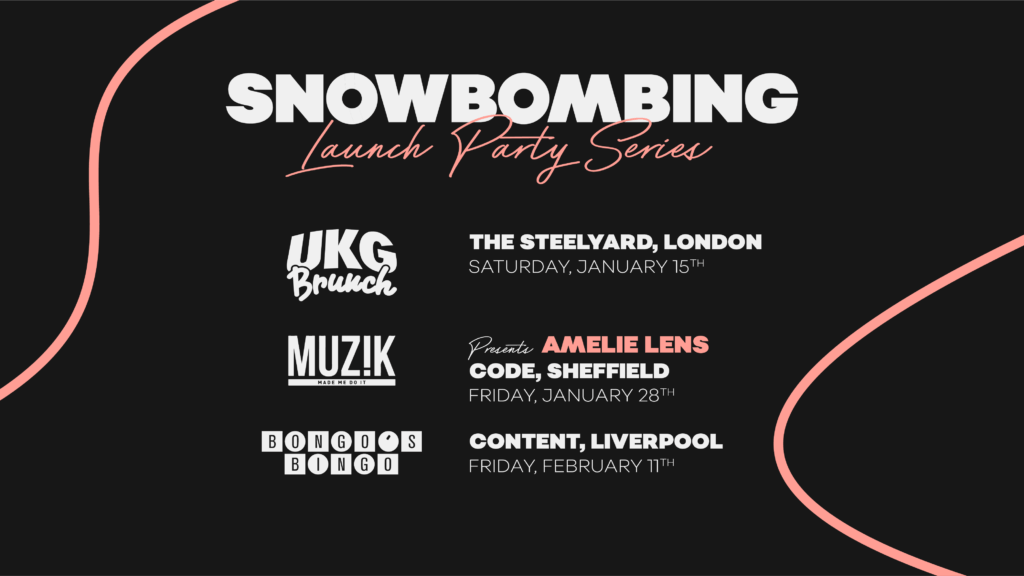 After a successful kick-off with Tibasko and Pro-ject back in Halloween, the popular Launch Party series is back with a bang in 2022. We have three exciting nights lined up in different cities across the UK:

The UKG Brunch Launch Party @ The Steelyard in London – January 15th

Garage-heads: time to gear up for a grubbin' at the UKG Brunch Launch Party. The legendary outfit are springing up at an undisclosed spot somewhere in London. Gorge on bottomless wings and cocktails to the rhymes 'n' riddims of the best UKG DJs and MCs. IT'S A LONDON WING stock the finest in fried chicken, and a legion of party people supply the vibes. Veggies are also welcomed by a plant-tastic beetroot and halloumi burger!
Get in the know and cop your ticket here.

The Muzik Launch Party @ CODE, Sheffield with Amelie Lens – January 28th

'Queen of Techno' Amelie Lens is lighting up Sheffield for the Muzik Launch Party on January 28th. Nights like these are why CODE dons the title of Sheffield's best rated club for its fourth year straight! Brace yourself for Flare Audio's concert-style twin speaker stacks that power the stripped-back, warehouse-style basement. Paired with a dazzling LED system and gifted support acts including Ahl Iver, Steve Lynam and Gav Walker, this Launch Party packs an almighty techno experience.

Head over and grab your ticket here.

The Bongo's Bingo Launch Party @ Content, Liverpool  – February 11th

The definitive Bingo experience is coming to Liverpool. Be warned: this is not the typical snooze-fest your nan's used to. Across 50 worldwide locations, Bongo's Bingo famously whirls a 'crazy mix of traditional bingo, dance-offs, rave intervals, audience participation and countless magical moments.'
Pink unicorns, karaoke machines, Henry Hoovers and iconic prizes ignite a 'social extravaganza' for anybody aged 18 to 92. Plunge into fun found only in the truly extraordinary uproar of Bongo's absurd bundle.
Take your place at the bingo bonanza today!
All three events are anticipated to be magnificent outings, so wherever you're at, be sure to jump in with one of our partners on the run-up to SB22!